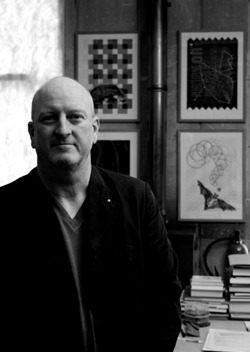 Jos Hachmang (b. 1957, Noordwijkerhout, NL) works as a visual artist across a variety of disciplines, ranging from painting to monumental sculpture for public space.
In 1980 Hachmang graduated from the Academy of Fine Arts in Rotterdam, followed by a fellowship in the UK, becoming the First European Fellow of Painting at the Exeter College of Art and Design. After returning to his native Holland, he settled in Schiedam, founding a gallery to showcase the work of his peers. A career in art for public space ensued.
Simultaneously, Hachmang became a teacher at the Monumental Design department at the Royal Academy of Fine Arts in The Hague. In 2001 he returned to fine art, working exclusively on personal projects.
Hachmang started out as a Hard Edge painter, experimenting with systematic approaches to painting, followed by an eclectic period influenced by Neo-expressionism. Large-scale paintings of geometric, architectural shapes resulted in three-dimensional representations, becoming his first forray into sculpture, resembling machine parts or objects from mid-century science fiction.
Since 2017 he focuses on modular sculpture: deceptively simple constructions based on spiralling growth patterns found in nature, such as DNA.




Curriculum Vitae
Jos Hachmang, b. 1957, Noordwijkerhout, NL
Lives and works in Noordwijkerhout, NL
Education/Residencies
1979/1980 ― Exeter College of Art and Design, Exeter, UK
1975/1980 ― Academie van Beeldende Kunsten, Rotterdam, NL
Selected Solo Exhibitions
2012 ― Limbo, Tipografia Grifani-Donati 1799, Città di Castello, IT
2011 ― Kunstmaan/Satellite, Witte Kerk, Noordwijkerhout, NL
2010 ― Grand Tour, w/ Hans van Bentem, Palazzo Ubaldini, Apecchio, IT
2009 ― Incontro, w/ Bruno Zieger, NH Kapel aan Zee, Noordwijk, NL
2008 ― Vader & Zoon, w/ Viktor Hachmang, NH Kapel aan Zee, Noordwijk, NL
2007 ― Mise à Mort de Route, 't Huys Dever, Lisse, NL
2006 ― Versus, Italartnet, Città di Castello, IT
2004 ― ESA/Estec, Noordwijk, NL
2004 ― Gente del Posto, Studio 38 Arte Contemporanea, Perugia, IT
2003 ― Gente del Posto, Tipografia Grifani-Donati 1799, Città di Castello, IT
1996 ― Monte Acuto, Haarlem, NL
1988 ― Galerie Joke de Brieder, Rotterdam, NL
1985 ― Radio Rijnmond, Rotterdam, NL
1984 ― NRP Gallery, Rotterdam, NL
1984 ― Stedelijk Museum, Schiedam, NL
1984 ― Prodotti di Bosco, Città di Castello, IT
1983 ― Galerie Westersingel 8, Rotterdam, NL
1983 ― Stedelijk Museum, Schiedam, NL
1982 ― Art Street Gallery, Amsterdam, NL
1981 ― Cultureel Centrum 't Hoogt, Utrecht, NL
1981 ― Villa Gusto, The Hague, NL
1980 ― Spacex Gallery, Exeter, UK
1980 ― Academie van Beeldende Kunsten, Rotterdam, NL
Selected Group Exhibitions
2010 ― People, Passions, Places…, De KetelFactory, Schiedam, NL
2010 ― Artefare, Palazzo Bufalini, Città di Castello, IT
2009 ― Tipografia Grifani-Donati 1799, Città di Castello, IT
2008 ― Padri e Figli, Castello di Sorci, Anghiari, IT
2007 ― Spazzavento: Domus Art, Città di Castello, IT
2000 ― Zeegezichten, Prins Hendrikstichting, Egmond, NL
1995 ― Tipografia Grifani-Donati 1799, Città di Castello, IT
1993 ― Galerie Joke de Brieder, Rotterdam, NL
1992 ― Kunst & Bouwen, Zoetermeer, NL
1990 ― Kunst & Bouwen, Rotterdam, NL
1989 ― Schworhaus, Esselingen, DE
1987 ― Stedelijk Museum, Schiedam, NL
1986 ― De Beurs, Rotterdam, NL
1982 ― Stedelijk Museum, Schiedam, NL
1982― Piano Grande di Castellucio, Perugia, IT
1982 ― Spacex Gallery, Exeter, UK
1981 ― Kunstzaal Zuid, Rotterdam, NL
1981 ― Hilton Hotel, Rotterdam, NL
1980 ― Exe Gallery, Exeter, UK
1980 ― Expositiezaal De Doelen, Rotterdam, NL
1979 ― Cheltenham/Gloucester Museum, Cheltenham, UK
Selected Commissions
2020 ― Vitablend, Wolvega, NL
2016 ― Woonzorgcentrum HOZO, Woonstichting Stek, Hillegom, NL
2014 ― Gemeente Noordwijkerhout, NL/Hirado, Nagasaki Prefecture, JP
2011 ― 1+1=3, Vaillant, 320 multiples, Amsterdam, NL
2010 ― Psychiatrisch Ziekenhuis Vogelenzang, Bennebroek, NL
2009 ― Gemeente Zevenhuizen-Moerkapelle, NL
2007 ― Diaconessenhuis, Leiden
2006 ― Museum Kwekerij Veelzorg, Hillegom, NL
2000 ― Wethouder Brederodeschool, Rijswijk, NL
1997 ― De Sjemschool, Middelharnis, NL
1995 ― Ontwerpburo Geerlig Haas, Weesp, NL
1990 ― Narcis Queridoschool, Amsterdam, NL
1989 ― Basisschool De Start, Amsterdam, NL
1988 ― Schiedamse Grafiekdoos, Schiedam, NL
1987 ― Sporthal, Sassenheim, NL
1987 ― Zwembad Familie Meijer, Schiedam, NL
1985 ― Scholengemeenschap De Vaan, Rotterdam, NL
1983 ― Wessel Gansport College, Zoetermeer, NL
1982 ― Stadskantoor, Dordrecht, NL
1982 ― Artotheek, Rotterdam, NL
1982 ― Edition of prints, CBK, Rotterdam, NL
1981 ― Sporthal De Wielewaal, Rotterdam, NL
Glossary
2001/2012 ― Member of the board BK Informatie, Rotterdam, NL
2006/2011 ― Member of the committee Art for Public Space, Hillegom, NL
2001/2006 ― Member of the committee Kunstruimte, Rijswijk, NL
2001/2002 ― Member of the committee Art for Public Space, Ypenburg, NL
1998/2001 ― Head of department Visual Arts, Royal Academy of Fine Arts, The Hague, NL
1996/2001 ― Member of the board Materiaalfonds, Amsterdam, NL
1993/2001 ― Head of department Monumental Design, Royal Academy of Fine Arts, The Hague, NL
1986/2001 ― Tutor at the Royal Academy of Fine Arts, The Hague, NL
1982/1984 ― Stipend Rotterdamse Kunststichting, Rotterdam, NL
1979/1980 ― Fellowship at Exeter College of Art and Design, Exeter, UK